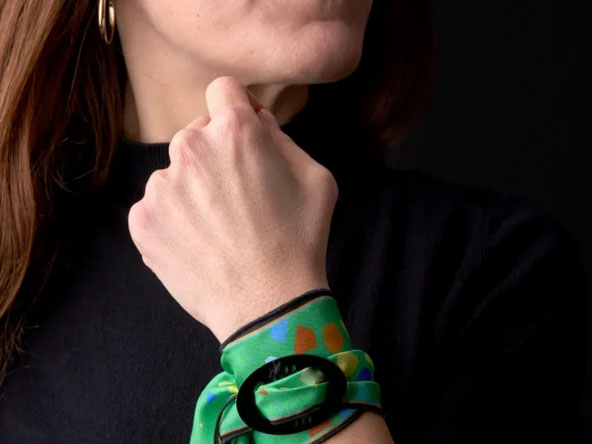 The original scarf-bracelet designed by Maurizio Tonti
The foulard-bracelet realized by designer Maurizio Tonti is a contemporary and original accessory which can be worn on the wrist or neck with a casual or elegant outfits
It' represents not only a simple accessory but a trendy fashion item made in 100% silk!
The season spring-summer 2023 is featured by sophistication and versatility so if you're going to choose to show a personal and creative look with this element of style you'll be unmistakeable!
The collection of bracelet-foulard by Maurizio Tonti is made up of many models in different colors which you can create many outfits/look depending on your personality or mood you want to express. Remember, you can communicate not only with words or gestures but above all with what you wear!!
This accessory in silk represents an unedited and lively alternative to usual bracelet, above all in spring and summer time, when we can flaunt our colored and vibrant wrists.
The bracelet-foulard was an original idea created by creativity of Maurizio Tonti who found inspiration in a former wool mill turned into an atelier and located in Rasiglia, a beautiful village located in the heart of Umbria, a green Italian region. In this magical place – surrounded by water, streams, waterfall and nature – was born le exclusive and iconic handmade creations
Discover the exclusive collections of bracelet foulard with geometries freely inspired by nature stamped onto items: